Hotel PURO Warsaw - concrete elegance
___
In 2021, together with the architectural studio and the well-known PURO hotel chain, we created a unique hotel project. The main goal was to find and propose a new, repetitive motif for the facade that would be light and subtle. As a result, it was decided to use one type of material for the facade - fine-grained architectural concrete of a gentle warm shade. The entire facade consists of prefabricated elements designed to create a beautiful tectonic composition that changes its shape depending on the angle and direction of the sun. On the last floor there is access to a terrace with a view of the city. The architectural project is characterized by a minimalistic and elegant form, with attention to detail and functionality. Using one type of material on the facade, it was possible to create a complete and harmonious composition that fits into the characteristic style of PURO.
Architecture | Kikowski architekci
Real Estate Developer | PURO sp. z o.o.
Vibrant Apartments with Terraces: A modern block of flats with spacious balconies
___
The visualization presents a modern residential complex consisting of two blocks, located near a new transportation hub in Olsztyn, providing convenient transportation connections for its residents. The architecture of the buildings is characterized by simplicity but has been diversified using two types of materials: an elegant facade made of clinker tiles, elevating the investment standard, and the use of structural plaster. The color composition has been carefully selected by architects, creating a contrast effect. The dark gray color serves as the main background, while three shades drawn from the beige tile palette give the buildings a warm and modern appearance. Large balconies add spaciousness and comfort for the residents, creating an ideal place for relaxation in the fresh air. This visualization showcases a modern housing estate that combines functionality, aesthetics, and convenient transportation connections, creating an attractive place to live for future residents.
___
Architecture | OTOTO architectural studio
Real Estate Developer | ARBET Investment Group
Black Pearl, Hel
___
One of our most interesting works. Architectural Visualizations of multi-storey building in Hel, Poland. Totally black facades are created with only three materials: black brick, black tile, black HPL. Black Pearl is a reproduction of the modern combination of noble materials.
___
Architecture | OTOTO architectural studio
Real Estate Developer | Grupa Natural
Raw Elegance: Interior Design of the Living Room and Kitchen in a Summer House
___
In collaboration with an architectural firm, we have created design and visualizations of the interior of a summer house's living room and kitchen. The main theme of this project is the use of dark colors and raw architectural concrete, which give the interior a unique character. The living room space has been designed to harmoniously blend with the surrounding environment. The floor, extending from the terrace to the living room, seamlessly merges the interior with nature, creating a fluid connection. This impressive combination highlights the beauty of the surrounding Mikołajki lake. The project also incorporates colorful accents that beautifully contrast with the dark backdrop. The high ceilings and open truss structure add a sense of lightness and a remarkable atmosphere to the space. Simultaneously, they create an impression of a space full of possibilities and freedom. It is a place where one can enjoy the surroundings, relax, and delight in the beautiful view of Lake Mikołajki.
___
Architecture | OTOTO architectural studio and VizAmbiance
Real Estate Developer | Privat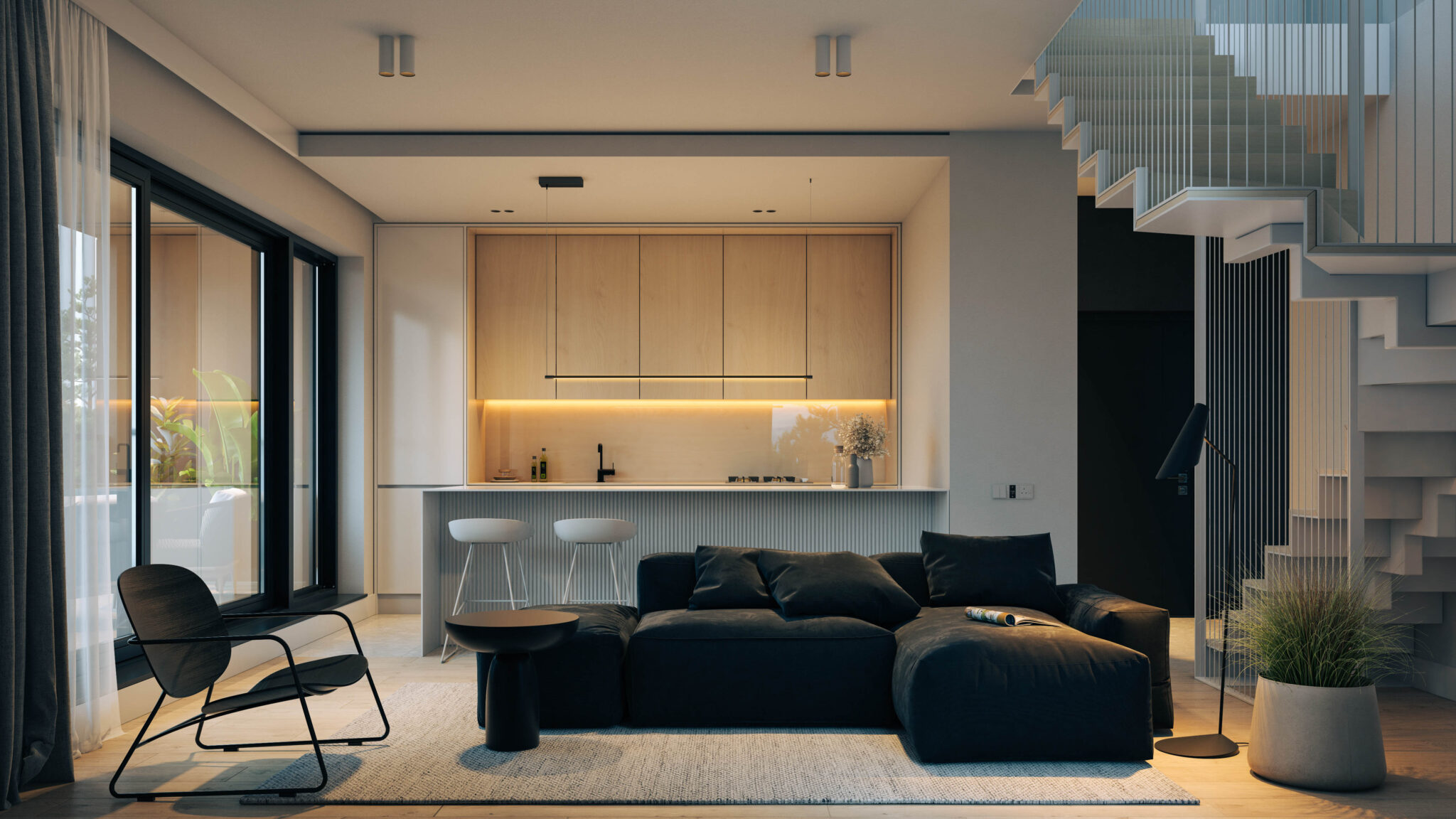 Visualizations of the kitchen and living room
___
The basic task in designing the interior of the apartment was minimalism and bright colors. The maximum white color introduced to optically enlarge the room, light natural wood allows for the effect of cosiness in the interior and a black accent.
___
Design and Visualization's | VizAmbiance
Real Estate Developer | Grupa Natural
Modernist Haven in the Heart of Nature
___
Welcome to admire this magnificent architectural visualization - a picturesque complex of four modern residential buildings surrounded by charming nature and cozy lakes. The view of this architectural ensemble in a simple modernist style is breathtaking. Harmoniously integrated into the natural landscape, the buildings emphasize the beauty of the surrounding nature. With the preservation of the natural shape of the terrain, the architects dedicated special attention to the protection of existing trees, creating courtyards flourishing amidst the greenery and providing residents with an ideal place for relaxation and leisure right outside their windows. This majestic complex perfectly combines modern solutions with respect for the environment, creating a space conducive to harmony and peace. We encourage you to imagine how residents enjoy the charms of nature, deriving joy from living in this exceptional place. Discover with us this paradise for the senses, where architecture and nature are woven into a beautiful dance of harmony.
___
Architecture | Privat
Real Estate Developer | novdom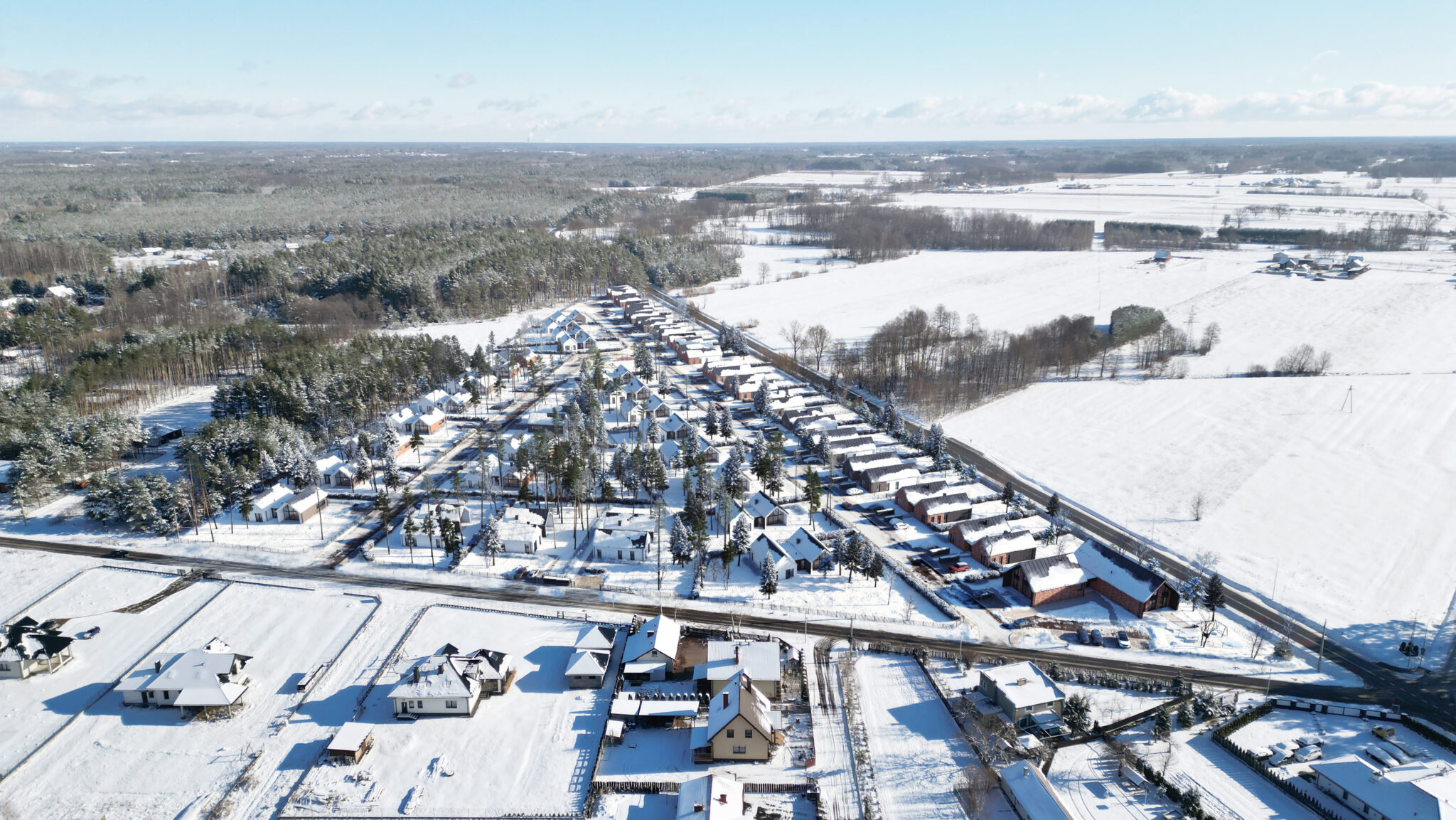 Pine Grove Homes
___
This architectural visualization depicts a project of detached single-family homes and semi-detached houses on a plot surrounded by beautiful pine and spruce trees. The project emphasizes preserving as many trees as possible and maintaining the natural character of the terrain. The facades of the houses will be made of two-tone plaster and natural-colored clinker tiles, which will add elegance and style. On the property, there will be a spacious communal area where residents will have access to many amenities, such as a beach volleyball court, swimming pool, gym, and playground for children. This is the perfect place for families with children who want to live in a natural setting and enjoy an active lifestyle.
___
Architecture | DCK architects
Real Estate Developer | place invest
in architecture and design​
As a team of architects, we participate in the process of building design, utilizing the fundamental principles of composition and aesthetics. Simultaneously, as CG artists, we strive to present all possible beautiful views of the building through computer graphics. Therefore, in the process of 3D modeling and texturing, the materials used are significant. The combination of different materials and elements, light and shadow (Chiaroscuro), mood, and time of year. In addition to architectural visualizations, our portfolio also includes interior visualizations, product rendering, and complex 3D modeling.
Visualization of single family house​
Marina Iława Tourist Apartments
We are CGI artists and passionate architects with extensive experience in the computer graphics industry. Our portfolio includes over 600 completed projects related to visualizations and thousands of 3D models. Our transparent and coherent workflow ensures efficiency. Through continuous collaboration with architectural firms, designers, and developers, we gain more experience, construction knowledge, and understanding of the physical properties of materials.
With a focus on quality, we employ cutting-edge technology and industry best practices to deliver outstanding results. Our commitment to excellence extends to our collaborative approach, where we value open communication and actively involve you in the creative process. We believe that successful cooperation is built on trust, transparency, and a shared dedication to achieving remarkable outcomes. It's worth noting that we were nominated for the CGarchitect 3D Awards in Vienna in 2019.
At our studio, we go beyond just offering interesting solutions for your design ideas. We strive to bring your vision to life with our expertise and passion for creativity. Our team of skilled professionals is dedicated to delivering exceptional 3D visualizations that exceed your expectations.
We understand that each project is unique, and we approach it with meticulous attention to detail. From conceptualization to the final touches, we ensure that every aspect of your design is carefully crafted and executed. Our goal is to create immersive visual experiences that not only showcase the aesthetics but also convey the functionality and ambiance of your architectural or interior design.
Holiday residential complex